GREENPRISONS WEBINAR SERIES
Missed the March webinar on strategic planning? Visit

www.Greenprisons.org

to view an archive of the webinar.

UPCOMING EVENTS

Tell your sustainability story
In the constant quest of good public relations, correctional facilities could learn a thing or two from advertisers.
Read more
about how and why to tell your sustainability story.




Guest Blogger: Bill Sturgeon


Thanks to our friend and colleague, Bill Sturgeon for being this month's guest blogger.
Read about
Bill's experience at last fall's Symposium.



Find us on
Twitter, Facebook and
Linked In!
President's Perspective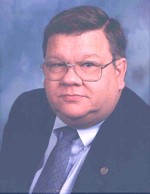 Moving forward for correctional sustainability
As GreenPrisons looks forward to our third year of operation the future is bright and the role of sustainability continues to grow in corrections. In spite of challenging financial times, more and more correctional agencies are seeing sustainable products and practices as one of the best options they have to save money and continue to provide programs to offenders.
This year we want to continue to focus on successful programs around the country and the impact they have had on correctional operations. To that end, GreenPrisons hosted a webinar in March focused on the strategic planning process of the Ohio Department of Rehabilitation and Corrections and the Illinois Department of Corrections. You can now access a replay of that webinar by visiting www.GreenPrisons.org

In Memorium
One of the goals of GreenPrisons is to promote a safer more secure correctional environment by providing offenders with positive, productive ways to spend their time. The need for those programs was never more evident than in the last month when two federal correctional officers and the Commissioner of the Colorado Department of Corrections were killed. We encourage you to join us in recognizing the sacrifices of these correctional professionals.

GreenPrisons National Symposium
In response to a number of inquiries, we have decided to post pone the national symposium in 2013. With the current economic limitations on agencies and the restrictions on employee travel, GreenPrisons does not believe we can support a national event this year. We are, however, making plans for the next Symposium in the spring of 2014. We should have more information available In June.
The absence of a symposium does not mean that we won't continue to keep you up to date on sustainable practices and new products. We hope to increase our presence at regional and national events and continue the monthly newsletters and webinars, finding new ways to keep you informed. If you would like a representative from GreenPrisons to address your state correctional association or similar event contact tommy@greenprisons.org for more information.
---
GREEN COMMUNITY NEWS
Sustainability in Prisons Project
In March, GreenPrisons had the opportunity to attend the second meeting of the Sustainability in Prisons Project (SPP). This meeting drew prison and jail practitioners primarily from the West coast but also including teams from Ohio and Maryland. The primary focus of SPP, partially funded by the National Science Foundation, is to bring science into correctional facilities through training offenders in the propagation of a variety of endangered plants and animals. Visit their website above for more information.

Lettuce Grow Expands Oregon Program
Fresh fruit and vegetables will once again supplement meals at Deer Ridge Correctional Institution beginning in the spring, thanks to expanded inmate gardens.
For the third consecutive year, inmates will be working a one-acre plot inside the minimum-security prison, but for the first time, a small group will also be tending a greenhouse and one-half acre garden outside the prison walls. READ MORE
What is a "Living Building"?
The Living Building Challenge is a green building certification program that defines the most advanced measure of sustainability in the built environment possible today and acts to diminish the gap between current limits and ideal solutions. Projects that achieve this level of performance can claim to be the 'greenest' anywhere, and will serve as role models for others that follow. LEARN MORE
California Prisons Solar Initiative
The California Department of Corrections and Rehabilitation (CDCR) recently announced that solar energy installations at four of its prisons are now operating at full capacity. The department began installing large solar arrays at its facilities in 2006, working with international utility company Sun Edison, based in Belmont, Calif. READ MORE
Save Money Through Composting
In this era of tight budgets, one great place to start saving money is reducing bio-degradable waste through composting.
The American Correctional Association Policy on Environmentally Responsible and Sustainability-Oriented Practices states "… public and private agencies at the federal, state and local levels should: Promote and engage in composting." READ MORE


Sout Carolina's DJJ
Read about the interesting ways the South Carolina DJJ is incorporating sustainable practices into the lives of incarcarated juveniles.