Sustainability News:
Sustainability in Corrections is alive and well! Since we started GreenPrisons over six years ago the level of interest in sustainable products, technology and services has manifested itself in increased requests for information either through the website or presentations at institutions or conferences.
Nowhere is this growth more obvious than in the Sustainability Committee of the American Correctional Association (ACA). Originally formed as the Clean and Green Committee in January 2010, the Committee has been recently renamed and granted standing committee status. Beginning with the meeting at the Winter Conference in January 2017, the Committee's formal name will now be the Sustainability-Oriented & Environmentally Responsible Practices Committee or the "Sustainability Committee" for short. Follow the links elsewhere in this newsletter to learn more about the committee or if you will be at ACA please plan on joining us on Saturday, January 21 at 1:30, or just give us a call at 859-582-1900 to learn more about the committee and what we do.
Another indicator of the interest in sustainability is the growth of sustainable vendors in the exhibit hall at major conferences. Following ACA's lead, the American Jail Association (AJA) and the National Correctional Industries Association (NCIA) now have dedicated space in their exhibit halls as well. In addition to the exhibit area most of these associations also have workshops on sustainability as a part of their formal training programs.
GreenPrisons continues its practice of trying to attend as many state and regional conferences as resources will allow, sharing information and attempting to learn what is happening around the country. We recently returned from the South Carolina Criminal Justice Association conference and had the opportunity to present a workshop to over 40 correctional practitioners and to learn about the partnership of the South Carolina Department of Corrections and "Palmetto Pride" a non-profit agency that assists the Department in their recycling efforts. Click here to see the article on the GreenPrisons website about our visit to South Carolina.
If you would like GreenPrisons to participate in your conference, simply email: info@GreenPrisons.org or call 859-687-9063 for more information.
Flexi Pave Expands Its Correctional Initiative
Kevin Bagnall of KB Industries, manufacturer of Flexi Pave has doubled down on his commitment to corrections implementing an offender training program to assist agencies in using Flexi Pave as part of their correctional industries and re-entry programs.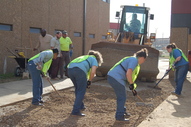 In a recent visit to the Shelby County Detention Center in Memphis to demonstrate Flexi Pave's many applications, Bagnall trained six female offenders to mix and install two sections of sidewalk in less than four hours. As a result, the jail is currently considering using the product on several Department of Parks projects including trails and tree surrounds. Click here to see the full article.