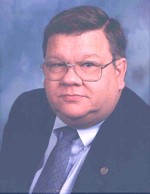 Happy New Year!
The holidays seem to have flown by and we already find ourselves in a new year while still following up on much of what 2013 brought us.
Beginning January 2014, GreenPrisons welcomes a new sponsor! We are excited about our new relationship with the Big Hanna composter and digester, developed in Europe and only recently brought to the U.S., and more specifically, to the Noble Correctional Institution in Ohio. Follow them from our website or check them out on the Web at http://www.bighanna.com/.
PortionPac Initiates New Training Program
Always in the forefront of the safety and management of cleaning chemicals in corrections, PortionPac has developed a new online training program to assist correctional agencies in learning how to use the new OSHA HAZ COM Standard. Click here to learn more about this standard and the training available from PortionPac. This training is an absolute must for any agency involved in accreditation or any correctional manager concerned about the safety and security of his or her facility.

Solar America Solutions
Solar America Solutions has embarked on a new solar thermal hot water project with the Ohio Department of Rehabilitation and Correction (ODRC). One of the largest solar thermal projects in the country, the Ohio project will be implemented in association with Ohio Penal Industries. Click here to learn more about this project, which is modeled after Solar America Solutions's successful partnership with PEN Products in Indiana.
GreenPrisons On the Road
We've been pretty busy since our last newsletter, meeting new people at the Construction Management Institute in Colorado, the South Carolina Criminal Justice Association Conference, and the South Carolina Department of Juvenile Justice (SCDJJ).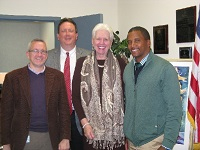 South Carolina Department of Juvenile Justice (SCDJJ) Director Margaret Barber and staff (left to right) Andy Broughton, Chief of Security; Shane Powers, Business Systems Manager; Director Barber; and Aloysius Anderson, Green Training and Environmental Control Consultant
The week of December 9th, we also had the opportunity to facilitate the meeting of Memphis Director of Corrections James Coleman, and several of his staff, with a number of Indiana Department of Correction (IDOC) staff, and to observe their sustainable practices at work. They also toured the manufacturing facilities of Horner Electric and Solar America Solutions, both suppliers of energy-reducing technology to the IDOC. On the re-entry side, we also toured the RecycleForce of Indianapolis operation to see firsthand how ex-offenders in the community are being provided with job training and counseling in the recycling industry.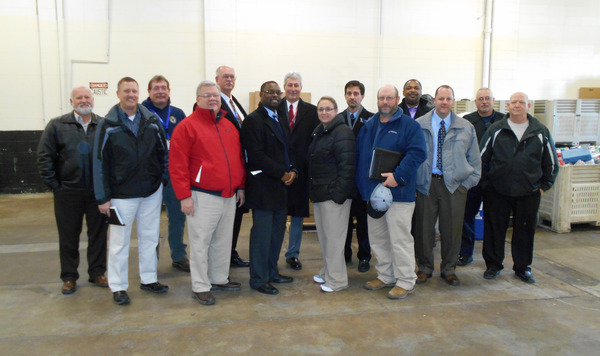 National Correctional Industries Association
On December 11th, we joined a webinar sponsored by the National Correctional Industries Association (NCIA) to talk about trends in sustainability in corrections. If you missed the webinar, be sure to check it out on the NCIA website.
ACA Winter Conference
The American Correctional Association Winter Conference in Tampa will be coming up soon. There will be several workshops on sustainability and of course, our Clean and Green committee will be meeting on Saturday afternoon. If you haven't registered yet, you can do so from the GreenPrisons home page or go directly to ACA.org.
GreenPrisons is on YouTube!!!
We now have a YouTube channel that archives all of the webinars and short videos developed by GreenPrisons or our sponsors, which you can view from a search for greenprisons.org. If you have a video regarding a sustainable practice you are engaged in at your facility, let us know if you would like to include it on our channel.
GreenPrisons Forum
GreenPrisons begins a new outreach program with our new "Sustainability Forums." These half-day expos and training sessions are free to practitioners and include presentations by some of the leading sustainability firms who work with correctional agencies in the U.S. If your agency is interested in hosting a sustainability forum, email us at tommy@greenprisons.org.
---
The Vera Institute of Justice supports the Ohio Green Prisons Project of the Ohio Department of Corrections (ODRC). Learn more about this innovative training and re-entry program project here.
The Federal Bureau of Prisons has earned national LEED honors as their newest facility opens. FCI Hazelton, WV received Leed Gold certification on their newest prison. To learn more, visit the Bureau of Prisons website, www.bop.gov, or click here.
Check out the Corrections One article entitled: The Butterfly Girls: Sustainability in Prisons Project Promotes Conservation, written by GreenPrisons Senior Advisor Paul Sheldon and Portion Pac President Burt Klein. The article outlines one of the Sustainable Prison Projects (SPP) of the Washington Department of Corrections and describes how the female offenders of the Mission Creek Correctional Facility have embraced sustainability.
---