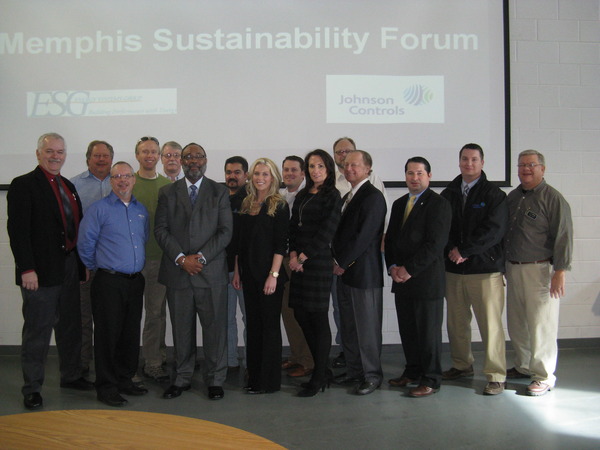 Sustainability Forum Exhibitors pictured with Director James Coleman, Shelby County Corrections (front row, third from left), and Tommy Norris, President of Green Prisons (far right)

On January 15, GreenPrisons, along with the Memphis City Jail, hosted the first regional Sustainability Forum. This unique event drew correctional practitioners from around the region as well as participants from other agencies of local and state government to hear from a variety of companies with a history of working with correctional agencies.

With the focus on sustainability, presentations and one-on-one conversations took place on a wide array of topics, including composting, solar thermal water heating, ozone laundry processing, heat and energy conservation, and financing through the use of energy service companies (ESCO's).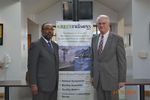 The event was held on the grounds of the Shelby County Law Enforcement Training Academy and was kicked off by Shelby County Mayor Mark Luttral, a retired Federal Bureau of Prisons Warden, and James Coleman, Director of Corrections, pictured at right. The event was well-attended by local media, including two local television outlets and two newspapers. The Commercial Appeal's article can be read here.
Director Coleman, determined to build on his existing sustainability initiatives which were spearheaded by Facilities Manager Bailey Waits, saw the Forum as an opportunity to explore new cost-saving technologies as he addresses the needs of the physical plant. "We're trying to get a bigger bang for the taxpayers and then be environmentally effective," Coleman told a reporter for the Memphis Commercial Appeal.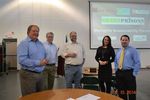 Executives of Solar America Solutions, one of the Forum sponsors, had the opportunity to talk about the value of solar thermal hot water with representatives of Johnson Controls. Solar America has the largest solar thermal operation in the country, now under construction in Ohio at the Ross Correctional Institution.

Pictured below, Eskil Ericksson of the Big Hanna composter explains the technology of "in-vessel" composting to Paul Young, Sustainability Manager for the City of Memphis and Shelby County, Tennessee. The Ohio Department of Rehabilitation and Correction was the first to install this technology widely used in Europe to eliminate all food waste from the waste stream.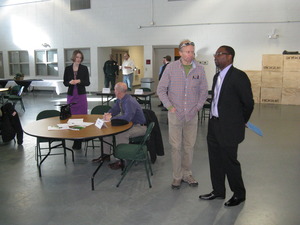 Ralph Daniels of Ozone Laundry Systems (pictured below) provided a brief overview of their detergent-free, water-saving ozone laundry technology to participants. The system is now used in over 150 federal, state, and local correctional institutions.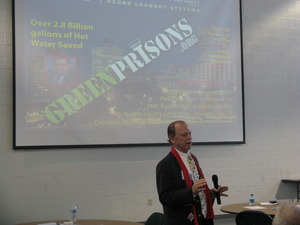 With representatives of the Tennessee Department of Corrections, Shelby County (TN) Corrections, Obion County Corrections, and Tipton County Corrections joined by staff of the host Memphis facility and other agencies of county government, there was ample opportunity to share information and discuss the pros and cons of each technology. Participants and company representatives gained valuable knowledge and made great connections at the Forum.

GreenPrisons plans to jointly host three more forums around the country in 2014. If your agency would like to host a Forum, contact Tommy Norris by email: Tommy@GreenPrisons.org or call 859-582-1900. There is no cost for correctional practitioners to attend.